Discover Key West's hidden gems with Eaton Bikes. Explore on two wheels, from Hidden Beach to the Southernmost Point. Rent a bike for nature, history, and culture adventures!
Key West, with its vibrant streets, historic charm, and picturesque waterfront, is a cyclist's paradise waiting to be discovered. If you're looking to explore the island's hidden gems, the best way to do it is on two wheels. With Eaton Bikes as your guide, we'll take you on a journey to some of Key West's most enchanting and lesser-known treasures. So, grab a rental bike, gear up, and let's pedal our way through the island's secrets.

1. Hidden Beach: A Secluded Oasis

Nestled away from the hustle and bustle, Hidden Beach is located at the Key West Nature Trail on Atlantic Blvd and is a serene escape that you won't find on the usual tourist maps. Just a short ride from Duval Street, this tranquil spot offers soft sands, swaying palm trees, and crystal-clear waters. Park your bike and savor the tranquility before continuing your adventure.

2. Tarpon Feeding at the Historic Seaport

Head to the Historic Seaport (adjacent to where Eaton Bikes is conveniently located) and be prepared for an adrenaline-pumping experience. It's a thrilling and unforgettable interaction with these gentle giants of the sea and occurs daily around 4pm.

3. White Street Pier: Beautiful Ocean Views

As you cycle toward the western end of White Street, you'll reach the White Street Pier. Here, you can take in panoramic ocean views and see wildlife just over the railing on the pier.

4. Key West Wildlife Center: A Glimpse of Local Wildlife

Pedal to the Key West Wildlife Center, where you'll find injured and rescued wildlife native to the area. It's a unique opportunity to observe these creatures up close and learn about the conservation efforts in place.

5. Key West Cemetery: Quirky History and Unique Epitaphs

As you explore the island, make a stop at the Key West Cemetery located in the center of Old Town, where quirky gravestones and humorous epitaphs tell the island's stories. It's a fascinating glimpse into Key West's history and culture.

6. Key West Garden Club: Lush Beauty and Tranquil Gardens

Discover the beauty of the Key West Garden Club's lush gardens. Located at West Martello Tower, this hidden gem is a peaceful oasis filled with tropical flora and peaceful settings. Its arguably the best free attraction in Key West, however they do appreciate donations.

7. Fort Zachary Taylor Historic State Park: Nature and History Unite

While there is an entrance fee required to access the fort, including the park's beach and picnic areas, it's still a fantastic location for swimming, sunbathing, and immersing yourself in nature.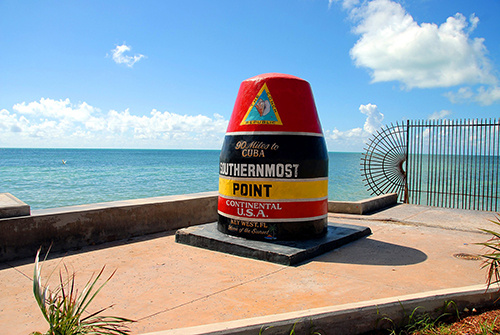 8. Southernmost Point Buoy: Iconic Landmark

You can't visit Key West without a photo at the Southernmost Point Buoy. This iconic landmark marks the southernmost point of the continental United States and is a must-see while cycling around the island.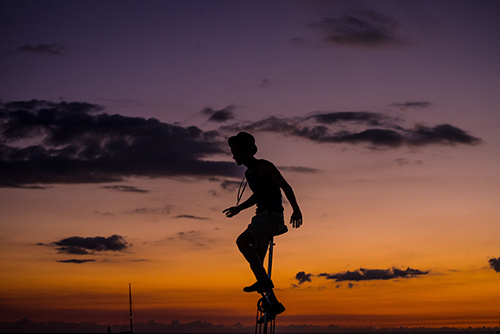 9. Mallory Square Sunset Celebration: Evening Delights

Join the nightly Sunset Celebration at Mallory Square for breathtaking sunsets and lively street performances. It's a perfect way to end a day of exploration.

10. The Kapok Tree: Out of this World Looking Tree

The Kapok Tree is our favorite hidden gem in Key West so we will spend a little more time explaining.

The Kapok tree in Key West is a magnificent and historic tree located at the corner of Whitehead and Caroline Streets. It's one of the island's iconic landmarks and is recognized for its towering height and majestic presence. The Kapok tree is known for its large, spreading canopy of lush green foliage and the unique, spiky seed pods it produces.

Kapok trees are native to tropical regions and are known for their rapid growth and impressive size. In Key West, the Kapok tree has become a beloved part of the landscape and a point of interest for both locals and visitors. Its dense canopy provides welcome shade in the Florida sun, making it a popular spot for relaxation and a respite from the heat.

The Kapok tree in Key West serves as a reminder of the island's lush and tropical environment, and it's often photographed and admired for its natural beauty. It's a symbol of the island's unique flora and contributes to the picturesque and laid-back atmosphere that Key West is known for.

Be sure to roam around to the back of the tree, you wont be disappointed.


11. Mile Marker Zero and More: The Ultimate Photo Ops

Ride to Mile Marker Zero, where U.S. Route 1 begins its journey northward. Along the way, discover the Kapok Tree, Dog Beach, and other charming spots that make for great photo opportunities.

With Eaton Bikes as your trusted companion, exploring Key West's hidden gems is a breeze. Whether you're seeking secluded beaches, quirky history, or stunning sunsets, this island has it all. So, hop on your rental beach cruiser from Eaton bikes, follow our guide, and uncover the enchanting secrets of Key West.